Choosing the Best Lighting for Your Bathroom
June 28, 2021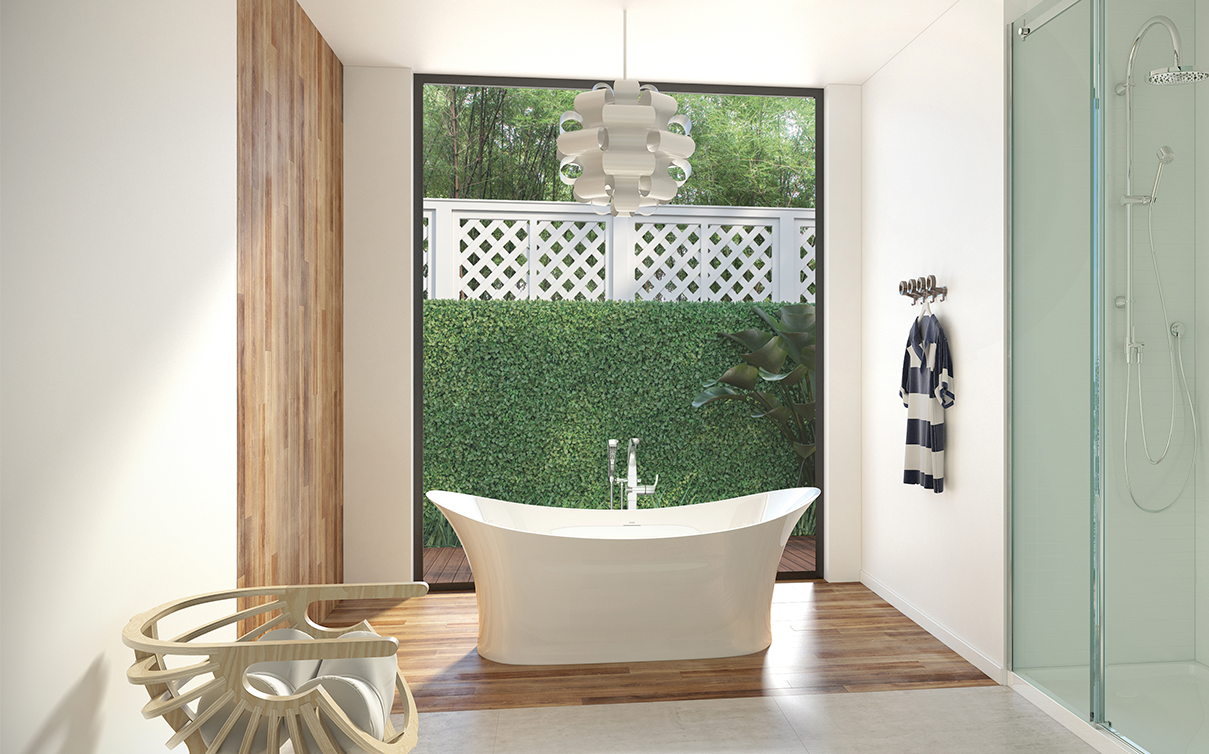 Featured Image: Sussex™ Acrylic Freestanding Bath
There's much to consider when brightening up a room, and lighting is an important detail. The right lights will not only let you see but will also give your space a serious style makeover. To make the process of selecting the right light both easy and successful, we've listed everything you should ask yourself or consider before purchasing a light fixture for your space.
What Finishes Are Already in the Bathroom?
Think about the materials that already exist in your faucets, door hardware and towel bars. Do you want your lighting to match those finishes or complement them? For a cohesive look, opt for bathroom lighting fixtures that are in the same material vein. But for a more contemporary, bold bathroom style, don't be afraid to mix metals and finishes.
What are the Room's Proportions?
Size matters: Big fixtures in a tiny room will look off-balance, as would diminutive sconces in a ginormous space. If you're designing a small bathroom space, it would be best if you research small bathroom designs that will help your bathroom look bigger than it actually is.
Do I Need Dimmers?
Dimmers will let you customize your desired light level to accommodate any mood (bright light for morning tasks, softer light for a relaxing evening bath).
What Kind of Lighting do I Need?
There's more to the world of bathroom lighting than sconces. Consider installing one or more of the following:
Chandeliers: These lighting fixtures can add an elegant (and useful) touch, while also serving as a focal point of design. That said, big chandeliers can look bulky and make small rooms appear smaller, so make sure the size and shape of the chandelier fits the room before installing.
Pendants: They'll give the room an extra dose of style and are great for spaces with high ceilings, since they bring the light down to your level.
Accent Lighting or Sconces: Installed over mirrors and vanities at face height, they're useful for daily tasks like shaving or makeup application.
Flush-Mounted Ceiling LED Fixtures: Great for illuminating the shower area.
What do I Need to Measure to Ensure my Lighting Works in the Space?
You'll need to measure the width of your vanity mirror: If you'll be installing lights above it, the width of your bathroom lighting fixtures should be at least one-third the width of the vanity mirror but not exceed its total width. If you have a double sink vanity, consider choosing two separate overhead lighting fixtures rather than one long one. The space on either side of a single vanity mirror should be measured if you plan on installing sconces on either side of it.
What do I Need to Bring to the Store when Purchasing Lighting?
Come to the store prepared with details about fixtures, finishes and other décor elements currently in your bathroom so you can better visualize what potential lighting fixtures might look like in your bathroom. If you're looking for vanity lighting, make sure to bring photos of your vanity and mirror loaded onto your phone or tablet as well.
If you are thinking of updating other areas of your bathroom, this bathroom measurement guide will help with the space planning. For the best décor ideas, these bathroom design trends should provide plenty of inspiration for your new décor.
View more Articles